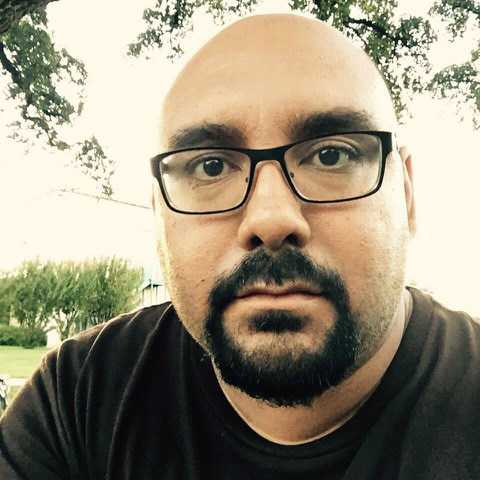 Christopher Carmona is the author of

The Road to Llorona Park

, which won the 2016 NACCS Tejas Best Fiction Award and was listed as one of the top 8 Latinx books in 2016 by NBCNews. He was the inaugural writer-in-residence for the Langdon Review Writers Residency Program in 2015. He has three books of poetry:

140 Twitter Poems, I Have Always Been Here

and

beat

. He co-edited

The Beatest State In The Union: An Anthology of Beat Texas Writings

with Chuck Taylor and Rob Johnson and

Outrage: A Protest Anthology about Injustice in a Post 9/11 World

with Rossy Evelin Lima. He has also co-written

Nuev@s Voces Poeticas: A Dialogue about New Chican@ Poetics

. Currently, he is co-editing

Outrage: Witness and Silence

and is working on a series of YA novellas entitled

El Rinche: The Ghost Ranger of the Rio Grande

. Book One is out now. He teaches at the University of Texas Rio Grande Valley Brownsville in Mexican American Studies and Creative Writing.
Born in Taiwan, Regina L. Lien received her Bachelor of Arts in English from The University of Texas Rio Grande Valley. In addition to being a mother, she works as an English teacher to students of all ages in Taipei, Taiwan. She has served as the Managing Editor of the online art publication, The Chachalaca Review, since Fall 2017. Along with publishing art, she is a writer herself and was a winner in Button Poetry's Short Form Contest (2019). Today, she can be found on Instagram (@rll_poetry).

Robert A. Hinojosa has a Bachelor of Arts in English from The University of Texas Rio Grande Valley. He has been published in

Interstice, Resilience en el Valle: Remembering Bazan Y Longoria

, and in Volumes 1 and 2 of

The Chachalaca Review

. He joined

The Chachalaca Review

as the Art Director in Spring 2018. As the Art Director, he has led in the aesthetic design choices of the website, as well as the creation of the digital book covers, posters, and promotional materials. He has a love of spoken word and slam poetry and often finds himself dragging his laptop outside at night and typing away under the moonlight.
Photographer & Graphic Designer
Andrés Cantú is a Mexican-American student at the University of Texas at Rio Grande Valley. Having a range of work experience from the Port of Brownsville, to marketing, to editing graphics for businesses. He is currently taking an interest in photography which he pursues with passion. He enjoys a good read from novels and holds a collection of art books. Cooking and baking with his free time he frequently plays on Steam to unwind and relax.

Lissette Monroy is a graduate student in the Creative Writing program at The University of Texas Rio Grande Valley. She is an aspiring author and is currently working on a chapbook of poems inspired by the people and experiences in her life. Some of her interests include writing, editing, photography, and creating playlists on Spotify.
Omar Rodriguez is in his junior year and is studying for a Bachelor's in the liberal arts field at the University of Texas Rio Grande Valley. With his degree in English, he has hopes of going into roles of writing and advertising but likes to tutor anyone in his spare time.